Pursuing the best education has become the top priority of human civilization and any country. Education has become a powerful weapon to mark development. Each country has a vast discrepancy in how they provide quality and best education in the world and how it is perceived globally.
Countries that offer the best education in the world help students launch a career in their chosen field and meet their curiosity about different industries. They also provide work opportunities and scholarships. When it comes to educational excellence, several countries frequently upsurge to the top. According to international rankings, the top countries with the best education in the world are United States, United Kingdom, Australia, Sweden, and others. These countries are known for their strong emphasis on literacy, highly trained teachers, graduation rate and well-funded schools. Here we have listed the top countries that provide the best education globally according to various methodology and opinions of respondents in a survey.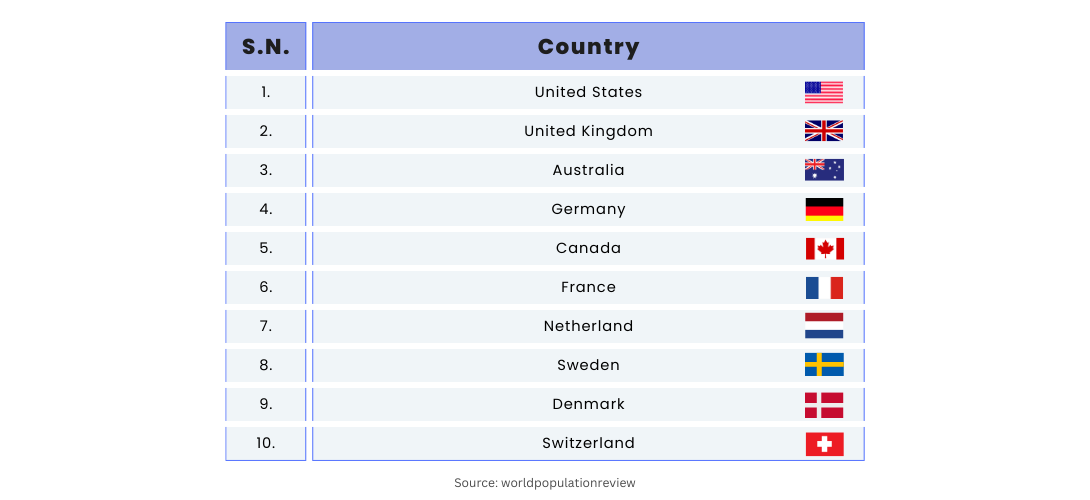 The United States of America:

The United States of America has one of country with the best education in the world. It offers renowned faculty, a wide range of courses, and high- quality education. The US is home to an unrivalled variety of programs with around 5,500 universities and colleges, whatever your interest and career aspirations are, and you can find the subject that suits your needs and interests. They have more than 2 million courses to pick from.

Universities in the United States provide a flexible academic atmosphere. Harvard University, the University of Pennsylvania, and Stanford University are a few well-known universities. College enrollment totaled 20 million students nationwide in 2022, a report says.

United Kingdom:

After the US, the UK has been the most preferred destination for students for international study, having 2.66 million students in 2021/22. The United Kingdom is ranked second in countries with the best education in the world for having some of the most prominent institutions, which provide excellent quality education, practical experience, a wide range of courses, and the finest learning atmosphere. Academic degrees from UK institutions are extremely valued. Learning in this atmosphere extends beyond textbooks, with students able to participate in a variety of workshops and seminars. Some of the best universities in the United Kingdom are the University of Cambridge, Imperial College London, The University of Edinburgh and The University of Oxford. Universities in the United Kingdom also have direct collaborations with colleges all around the world.

Australia:

Australia is ranked third to provide the best education around the globe. Nearly 600,000 international students attended various courses at Australian educational providers in 2022. For students interested in pursuing a study in technology and innovation, Australian University provides an exceptional learning environment. The living cost here is comparatively low and is considered a popular destination for students. Australia's universities are well-known for their strong teaching and research facilities including subjects such as architecture, engineering, administration, media, art and communication. The Australian National University, the University of Melbourne, the University of Sydney, and the University of Queensland are among the notable universities.

Germany:

Germany is also a popular destination for international students. With course options, the quality of education is guaranteed. Germany has discarded high tuition costs in favor of low or no tuition prices. It provides an education that is industry-based knowledge and skills.

Germany provides different scholarship schemes, and high quality life are some factors that make Germany also a top destination for students that provide best education in the world. Germany is home to some of the world's oldest universities and considered as the hub of innovation and discoveries. Moreover, Germany spends around 5% of its total GDP on education.

Canada:

Canada is a popular study destination for international students. It is concerned with both theoretical and practical education. Multiculturalism, critical thinking, and grading are all encouraged in Canada. Many degrees are available, as well as short-term courses in various disciplines.

The several study options, and great post-graduate opportunities makes it one of the most preferred destination for international students. Canadian Universities are known for generating some of the best academics and doing influential research work. Canada spends 5.2% of its GDP on education.

France:

The French school system places a high importance on teaching and schooling to provide best education in the world. Because education is supported, the tuition fee is inexpensive. People from all around the world travel to France for higher education. French government provide scholarships in addition to some of the French universities provide financial aid.

The school system here is multicultural with excellent teaching research and liveliness of France. The academic resolution may be a bit complicated, but it is known to be highly beneficial. France has made education the most basic rights and compulsory from age of 6 to 16.

Netherland:

The Netherlands is well-known for delivering high-quality and low-cost education. Although the Netherland is non-English speaking country they offer education in English to both foreign and domestic students. Universities in the Netherlands provide well-designed, contemporary curricula as well as processing facilities. They highly emphasize practical experience thus have a lot of partnerships with international companies. Universities of Netherland are widely known for their teaching and research work.

Sweden:

Swedish education is well-known for fostering academic success and teaching students about things other than grades. Students are exposed to high-quality education in a naturalistic environment, this country can be a great choice for research and innovation. The charge is affordably priced however tuition fee for European Union countries is free. Sweden offers a wide range of courses to both foreign and domestic students which is directly regulated by government.

Denmark:

The Denmark education system assists students to challenge the established way of doing things. It avoids ranking students in class and tests and memorizations. Government has ensured education as compulsory for students up to 16 years of age and free education is provided. Rather, the education system emphasizes problem-solving, and critical and creative thinking skills. Denmark's quality of education with globally recognized degree has provided the best education to many international students around the world.

Switzerland:

Switzerland offers an extremely pleasant atmosphere as well as an excellent educational system. The Swiss education system is well-known for its high academic standards and emphasis on research-based learning. Tuition rates are costly, but Swiss education is considered one of the best education in the world. It also fosters a student-centered environment functional with delegated accountability and administration.
These are some of the top countries with the best education in the world which comes in first choice for international students to choose for. However there are other countries which students intend to go for study are:
Finland
Poland
China
Japan
The majority of research and rankings on the best education in the world involves literacy rates, educational quality, graduation rates, and degrees of education completed. Two major factors determine the ranking of the countries:
Global Opportunity Index:
The core formula to determine any education system is the standard and the outcome it gives. The Global Opportunity Index is the standard that measures the attractiveness of a country to international investors on the basis of institutional, financial, economic, and regulatory factors.
Quality index:
This index measures the country's quality in terms of health, education, economy, safety, etc.
International degree enables students to get better job , time flexibility with practical knowledge and better curriculum. Nowadays, Nepalese students also turning way towards international degree especially UK degree. Islington College in Nepal offers students the opportunity to earn UK University degree, making it a top choice for those seeking a quality education in Business and IT. The institution's curriculum matches that of the prestigious London Metropolitan University in the UK, with the only difference being the location. Islington provides an excellent platform for Nepalese students to obtain a world-class education and stay up-to-date on the most recent developments and advancements in global business and IT sectors.