Among many different courses, the BSc IT course in Nepal has grown popular in the past years. Studying BSc IT involves things from programming to animations and to the people who enjoy these topics and love doing it, the job will never get boring as long as there is a passion within them. Nowadays, businesses also rely on Information Technology to help them be more productive, therefore, this is the career that benefits any business by allowing companies to work more efficiently and maximize their productivity.
Nepal is a developing country and recently many businesses are up and coming into the market, and they are all in need of IT professionals to make sure their businesses flourish.
Technology has now become an integral part of institutions and organizations, especially in this modern era where almost everyone is using some form of tech. The behind-the-scenes activities from websites to ad banners that bring consumers into the market are all possible due to IT and the possibilities are limitless. Also, the rise of companies like Daraz, Khalti, etc. and these examples are what have caused the field of IT to become more relevant than ever.
There are many colleges and universities in Nepal that provide degrees in the IT field but before we move on to that, let us look into the reasons to study Information Technology in more depth.
Why you should study BSc IT in Nepal?
One of the most appealing aspects of choosing information technology as a career is the low cost of education compared to many other options. Here we have listed some reasons to study BSc IT in Nepal:
You will have a diversity of career choices available to you. The computing and information technology job market is expanding in Nepal as said before from multimedia to app development, therefore, allowing you to branch out in your profession in a variety of ways.

Computer Science is a very practical subject where the skills you learn need to be applied in real-life situations, for example, programming. When you learn such topics and then try programming, you will be able to notice how far you are and all that you have studied up till now.

Studying IT provides you with flexibility in your choice of jobs. You will be able to work independently as a programmer or you could also work as a part of a team in IT companies. There is also a choice of working from home or being physically present in the workplace depending on the type of work.

One of the best advantages of working in IT is the salary you will earn. Your income will be high. Looking at the payscale, the average salary of software engineer in Nepal is Rs. 5, 70,613 annually.
As said before, IT is a growing field and it already has a large presence in our country. As new businesses and tech companies open every day, the existing ones grow larger and newer innovations are implemented, jobs in the IT field will always be in demand and the demand will only increase.
Each topic is suited for a particular mindset like programming is for people who enjoy formulaic concepts and problem-solving. If you go into this job with the proper mindset and enthusiasm, the job will never get boring.
While the importance of IT in Nepal, foreign countries already have a very dominant pre- existing presence in their market. Studying IT in Nepal also allows you the opportunity to work abroad in foreign countries or you could pursue higher degrees than a Bachelor's degree abroad and later work there.
Information Technology is a huge field as there are plenty of options for what you want your career to be, therefore, this also introduces flexibility in what you want to study.
Although a bachelor's degree is enough to introduce many jobs offers to you, it is not the end. You will be able to enjoy the opportunities to keep learning, improve your skills and gain a competitive edge over other people in the market.
For Nepalese students who want to pursue a career in IT, there are many colleges that offers bachelors and master degree program in IT in Nepal. Amongst Islington College is one of the Best College in Nepal which provides a degree from a reputed university in London, the London Metropolitan University. The IT Courses that are offered at Islington College are listed below: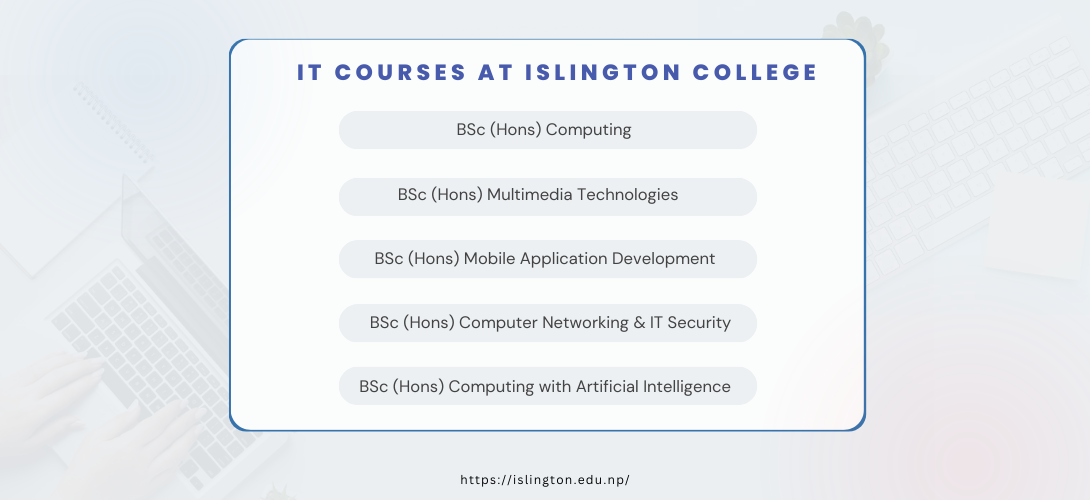 This course is based on a practical and theoretical study that focuses on techniques, theory, and application, as well as interpersonal, teamwork, and information technology skills which include programming languages, information systems, computer software and hardware technologies, database implementation, and application development. The students are also taught in highly equipped laboratories designed to aid improve their skills and knowledge.
The curriculum prepares you to work as a telecommunications and computer networking specialist, with a focus on network security. This course is based on the most up-to-date cyber security and networking principles. Programs are CISCO bases where students are taught networking fundamentals, switching, and routing principles, and wireless elements, as well as an understanding of enterprise-level security solutions. Additionally, you will be introduced to networks, the principles of cyber security, ethical hacking, and the related professional issues, ethics, and computer law to provide a firm foundation in the field of cyber security.
The main focus of the course is on the concept of artworks, 2D/3D character models, animations, texturing, visual effects (VFX), rendering, web and mobile design, and sound and music production while also aiming to equip students with employment options in the multimedia business as well as professional experience in a variety of jobs such as concept artist, technical artist, graphics designer, character animator, environment artist, VFX artist, and so on.
This course teaches you how to develop software applications for mobile devices, as well as covers topics such as computer programming, databases, cloud computing, data assembly and processing, interaction design, and Agile Software Engineering techniques for managing software projects.
Furthermore, if you have any queries regarding the course details, find us on this respective platform.
This course offers a broad understanding and focuses on teaching students the principles of computer science and artificial intelligence (AI). It is likely to cover a range of topics, including programming languages and software development, data structures and algorithms, machine learning and data mining and so on.
Moreover, Islington College not only focuses on Information Technology but also on the field of Business Studies.
While offering undergraduate degree programs for high school graduates, Islington College also offers a Master's Degree program for IT graduates. It is briefly described below:
Who can study BSc IT in Nepal at Islington College?
The entry requirement to study BSc IT course is described as below:
Academic level
For students who studied NEB +2,
Overall CGPA- 2.2 (55%) or above with each subject D+ (theory and practical) or above
English- 2.4 GPA (60%)
SEE Mathematics- C+ (50%) or above
For A-level students,
Minimum of 3.5 credits each with at least a D grade and above
Applicants who don't fulfill the English requirements may take these globally recognized tests:
Pass General Paper/English Language/IELTS 6/PTE 53
What is the scope of BSc IT in Nepal?
As more companies and organizations in Nepal have been digitalized, there is an increasing demand for IT specialists to design, develop, and manage these systems.
For those who hold a degree in IT, there are ample career prospects in Nepal.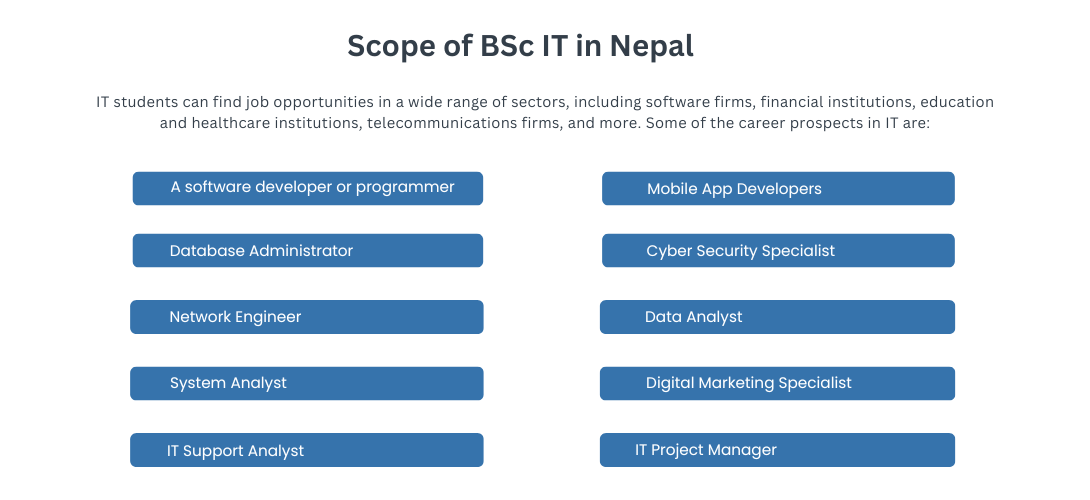 Jobs after BSc IT in Nepal
A software developer or programmer: Software developers create, develop, and maintain software programs. To produce software that satisfies the requirements of customers or users, they employ programming languages and tools.

Database administrator: These IT experts are in charge of organizing and maintaining data that is kept in databases. They make sure that consumers can simply access data that is kept effectively and securely.

Network engineer: Network engineers create, construct, and maintain computer networks. They use a range of technologies, such as servers, switches, and routers, to make sure networks are dependable and effective.

System analyst: These experts evaluate an organization's needs and create procedures to address them. They work with a range of technologies, such as networking platforms, software, and hardware.

IT support analyst: Users of IT systems can get technical help from these experts. They may solve issues, respond to queries, and give instructions on how to utilize IT systems.

Mobile developers: Mobile developers are software developer who create apps for portable devices like smartphones and tablets. They employ a range of programming languages and tools to produce useful and approachable apps.

Cyber security specialist: These IT specialists seek to defend networks and computer systems from security dangers like hacking and data leaks. To recognize and reduce security concerns, they employ a range of technologies and procedures.

Data analyst: These professionals extract crucial insights and data and examine vast databases. They study data and communicate their findings using a number of tools and methods, such as statistical analysis and machine learning.

Digital Marketing Specialist: This specialist has a vast knowledge of technology market research and analysis which encompass Social media marketing, Search engine marketing and so on.

IT project manager: These experts are in charge of organizing, planning, and monitoring the progress of IT initiatives. To guarantee that projects are finished on schedule and within budget, they collaborate with groups of IT specialists.
Starting your career in IT
Overall, Nepal has a broad and diverse IT industry, with work possibilities spread across a number of sectors. People with a BSc in IT can pursue a lucrative career in this fascinating and dynamic industry with the appropriate skills and training.