IT has been an integral part of our personal and commercial life. All the technological innovations and inventions like mobile applications to AI-integrated models and many are the sections that fall under IT. "Necessity is the mother of inventions" the need to make work efficient got recognized. Practically, this led to the innovation of many systems and applications used today. It has been estimated that IT jobs will grow to 13% by 2030 globally. The world is a global village due to IT and its impact.
Nepal is a developing country with developing technology. IT has impacted Nepal in such a way that it boosts its growth. With the internet and computers in rural areas, the flourishment of different technologies, digital transactions, and many more. Nepal is advancing through IT.
There is a universal use of information technology in business. Research, data handling, digital storage, automation, etc. is being crucial in many organizations. It is impossible to achieve long-term business success without utilizing the benefits of information technology in the heavily digital age we live in.
Why Study IT in Nepal?
IT has been a developing field in Nepal. It has a broader scope for a proper future. Many IT-related companies have been opened to provide IT-related services to prospective clients. There is a huge market demand for IT worldwide. Different colleges and IT training institutes promote the IT field here in Nepal and boost the interest generated within the students. Many students in high school and undergraduates choose IT as their major subject to secure their future.
Reasons to Study IT in Nepal
IT is making its way out and capturing the market in Nepal. The growth in this field is increasing rapidly with its valued significance. It's well-known as a well-paid profession. IT is needed everywhere to maintain a digital network. Many colleges are implementing IT- specialized courses and are providing practical learning.
Short brief on reasons to study IT in Nepal: Colleges introducing many specialized IT courses with well-equipped infrastructures paying attention to practical study.
A growing field:
IT has been a growing and developing field in Nepal with the inception of different IT- related companies. IT has made a great impact on economic development as well as human resource development. Human needs are ever-changing, so technologies get developed accordingly.
IT is necessary in every field:
Information Technology is needed everywhere. From businesses to academic institutions, IT plays an important role to make the working process efficient and accurate. Different institutions require IT to manage networks, computers, and other technical areas.
Always on demand:
No business would run without proper technology. Many IT companies are established to provide IT-related services. Thus, the demand for IT is high in the market to install technologies and solve IT-related issues.
Ample of job opportunities:
Since there are many institutions in Nepal that are established solely for IT-related fields. There is a very wide scope in Nepal. As there are many job opportunities provided in this field.
High earning potential:
IT is a highly reputed profession. It requires human resources with proper knowledge and skills related to computing technology that includes coding and ethical hacking. The salaries are high and reasonable in this field. Also, there is a very high demand for IT in the market. Therefore, this field has high earning potential.
Practical learning:
The skills are developed by practically implementing the course knowledge into the computer (programming, coding, etc.). It helps to think critically and analyze problems, acquire new ideas and learn a deeper understanding of concepts.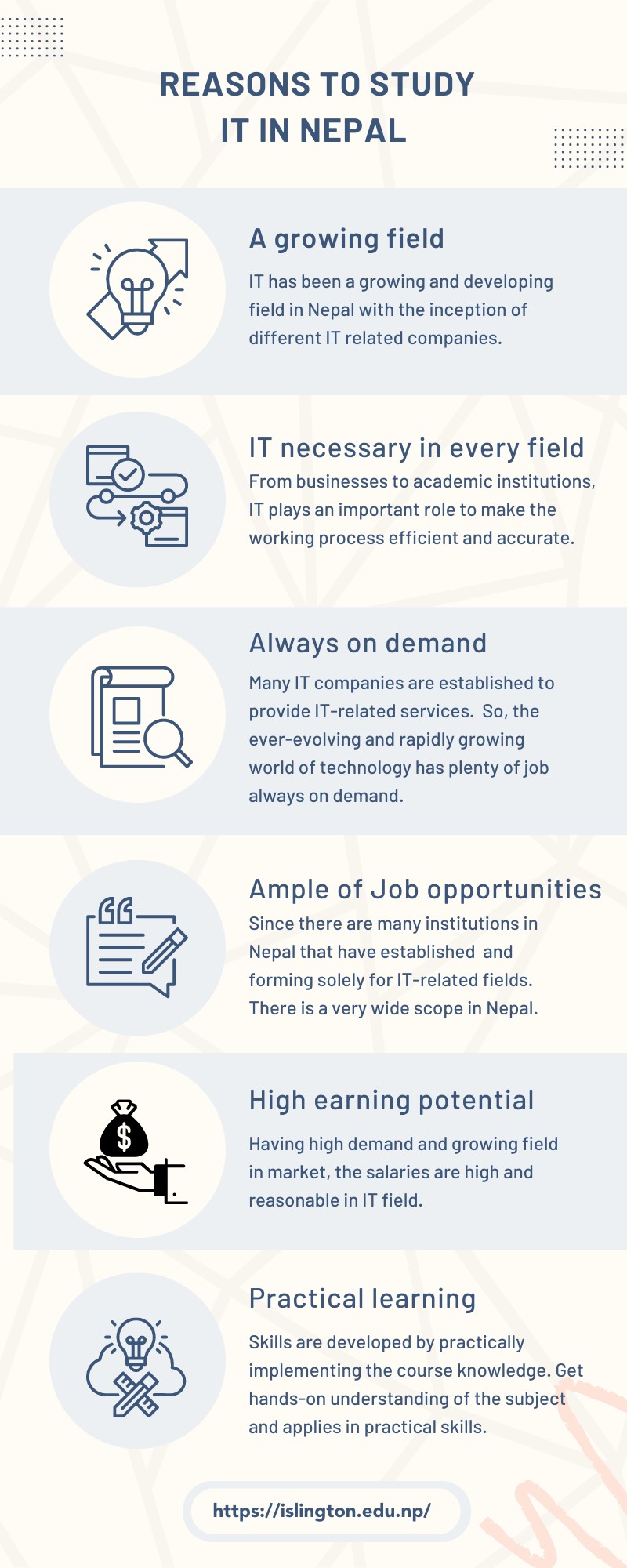 IT Career in Nepal
IT is making immense growth as a profession in Nepal. As seen in the present, IT has a good scope and will continue to advance for better scope. That is the reason for employment with a promising deal of salary. IT is gaining popularity, advancing rapidly, and taking over the market in Nepal.
IT can be said to be a secure field for the future. Due to which, IT is becoming the first choice amongst students while choosing their degree.
There are various job prospects for IT graduates or IT degree holders in Nepal and their salaries are highly paid.
Web developer: Nrs. 20k - 100k/ per month
Software developer: Nrs 20k - 200k/ month
Graphic designer: Nrs 30k - 50k/ month
System analyst: Nrs 35k - 124k/ month
Game developer: Nrs. 21k - 91k/ month
IT analyst: Nrs. 23k - 82k/ month
In recent years, IT is gaining greater importance in Nepal. IT has been a fundamental part of any personal, commercial, and non-profit organization. This field provides a good extent of learning and employment opportunities. People working in these fields are highly paid and are well known for their profession.
Many academic institutions are opened that are solely focused on IT. They provide training and knowledge related to IT to students.
Islington is one of the best IT colleges in Nepal:
When you search around there are many colleges and institutes providing IT programs. Islington College is one of the Best IT College in Nepal providing international degree in Information Technology imparting courses associated with numerous different specializations.
Islington College has been providing modern and practical education in the field of IT. Islington College incorporates a holistic learning approach to the students. The LTW (Learning - Tutorial - Workshop) framework equips students with practical experience in labs derived from their education in the classroom. Islington College provides fully equipped computer labs for practical training and learning.
In partnership with leading universities and institutions, Islington College provides advanced and complete courses of IT in Nepal. The Islington experience is a whole new level of adventure. A completely diverse friendly learning experience and environment that allows students to bring out a creative and innovative side within them. It is acknowledged for encouraging college students with scholarships.
FAQ
Is IT a good career in Nepal?

IT is considered as one of the secured career in Nepal. It is well reputed and well paid profession.
Which IT course is best in Nepal?

Considering one IT program as best is subjective however it depends on various factors such as curriculum, faculty, and infrastructure. IT course that has specialization program is best in Nepal.
Which IT technology is most in demand in Nepal?

AI, Data Science and Application Development is the most demanded IT technology in Nepal