Travel and Tourism
Travel and Tourism are an industry of hospitality and travel. The significance of the travel and tourism course is highly complementing the economy of the country. The industry has a prosperous expected growth in the future.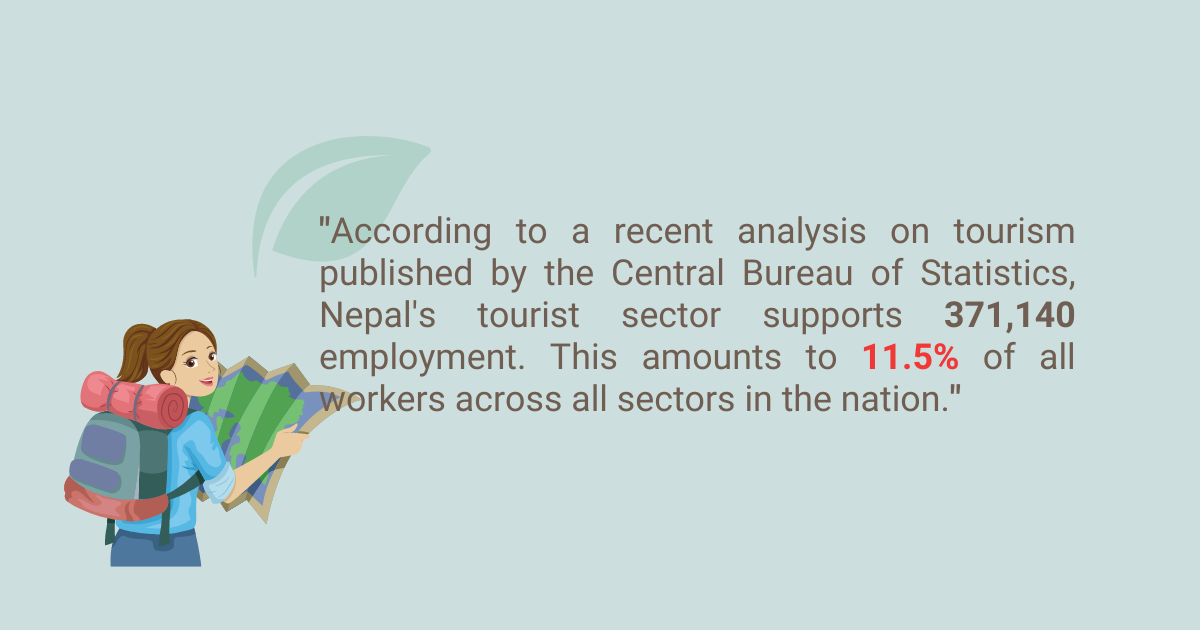 Importance of Travel and Tourism
The unprecedented growth in this industry has been proving the industry as the most revenue generating and profitable business in the world. The demand and significance of the course are opening endless career opportunities for students. It is a significant degree with a flexible and resilient industry accompanied by rewarding career prospects. It trains and prepares for rapidly growing employment options turning individuals into sought-after professionals in the hospitality and tourism industry. It embeds endless fun with learnings in every possible scenario.
Scope and Career Prospects
The scope is also considered a highlight of the course curriculum. The degree is accompanied by multiple ranges of careers and fields as per their convenience. One can experience international exposure according to their interest and suitability. The rapidly growing industry has dynamic work ethics. It is also a highly competitive and fast-changing field.
Travel Agent
Tour Guide
Tourism Manager
Event Manager
Tour Operator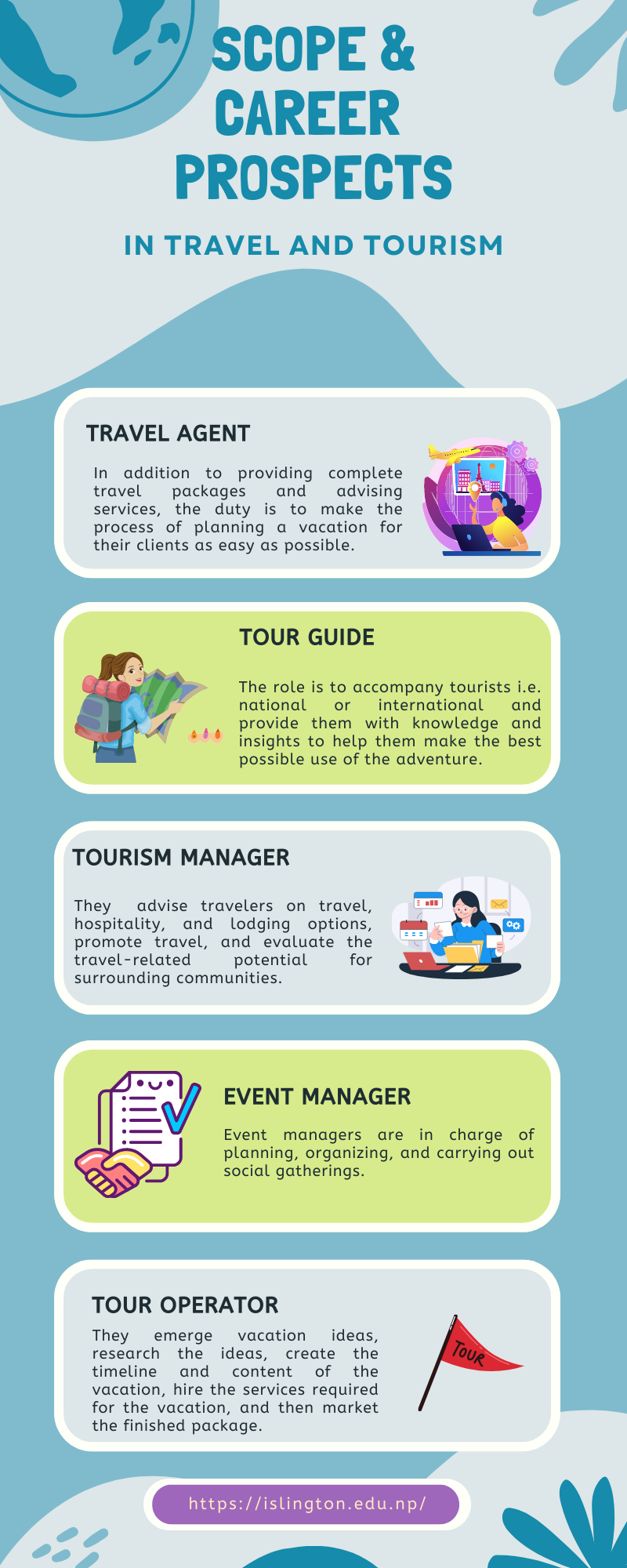 Achievement from the completion of the course
The degree complements an extensive spectrum of understanding of hospitality practices and international perspectives in the tourism industry. Moreover, it provides an insight into a range of technical expertise in a particular field.
The skills developed as a graduate of this field are as follows:
Developed comprehensive skills
Strong understanding of the business industry
Analytical and research skills
Quantitative skills with strong theoretical knowledge
Gain transferrable skills
Excellent communication and interpersonal skills
Leadership and networking skills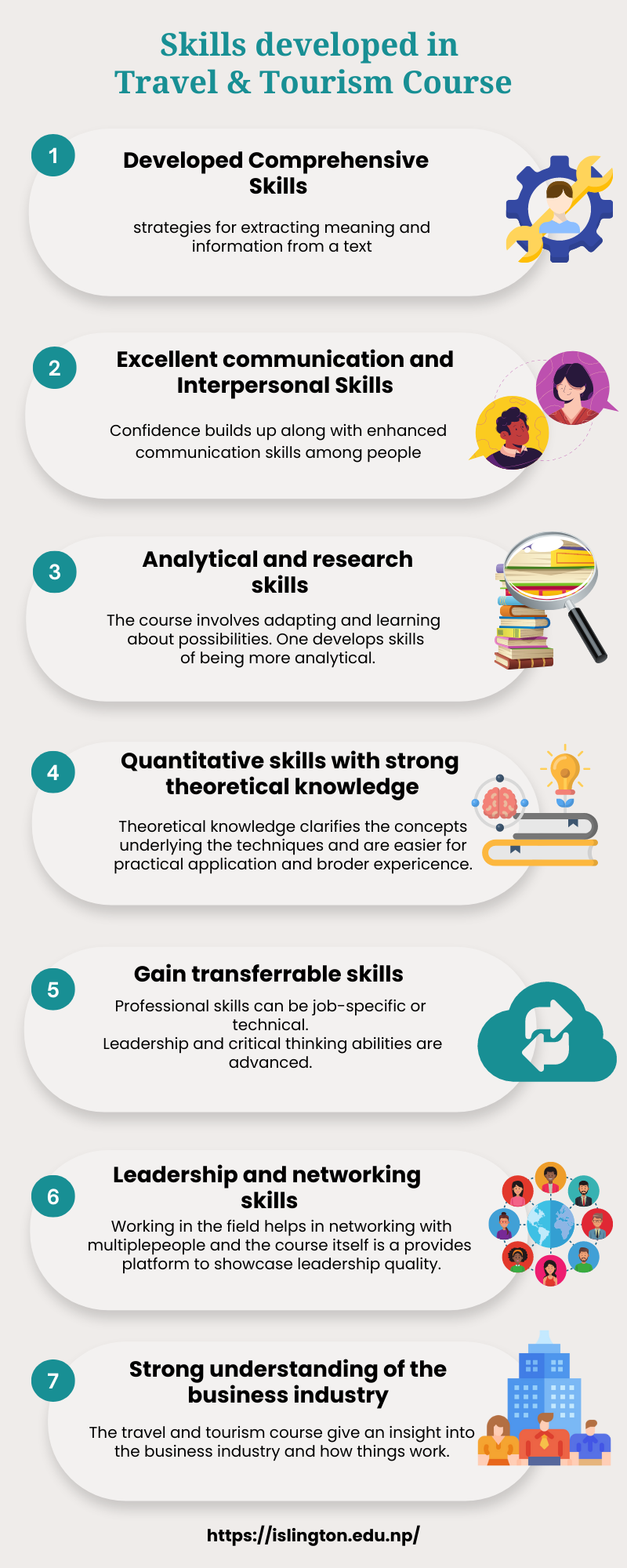 Specialization Courses available in Nepal
Nepal is a paradise with a fruitful future in tourism. It is also considered heaven in terms of beauty and tourism. According to WorldData.info, Nepal successfully welcomed around 230,000 tourists in the year 2022 and ranked itself in 6th position among South Asian nations. The core attraction of this faculty has definite impacts on youth and their interest in pursuing the course for a secured future and opportunities. The courses available in Nepal regarding the same are:
Bachelors in Travel and Tourism Management
Bachelors in Event and Tourism Management
BA in Travel and Tourism
Difference between Travel and Tourism and Event and Tourism Management
Travel and tourism management is a field that coordinates the administration and planning of a series of events for a set of individuals. Furthermore, it includes all responsibility for supervising the entire tour or event from beginning to end. These activities include ticket purchases, accommodation and travel arrangements, event location details, and an understanding of each individual's preferences throughout the event.
Event management, on the other hand, resembles a specific skill set that only supports one event at a time. It symbolizes the governance of a specific event for the customer. The venue setups, food, and configurations are organized within.
Both of the programs have a broad spectrum of graduate prospects. Moreover, the Event management sector has an amplitude of entrepreneurship probability. It helps an opportunist gain a plethora of insight, and experience inclusive of activities associated with introducing, promoting, and making an impact.
Study Tourism in Nepal
At the graduation or post-graduation level, students can pursue a degree, diploma, or certificate course in travel and tourism. To advance their careers in research, one can also pursue a Ph.D. in their chosen area of the course.
There are many TT colleges in Nepal with different affiliate programs/degrees. Among them, students with an interest in enrolling in UK degrees can enquire about Islington College Kathmandu. The college provides the finest specialization courses in Event and Tourism Management. It is also one of the best IT, Business College in Nepal.
Conclusion
The degree holds careers that accustom lucrative international disclosure. This sector has widespread influence in all age groups. It develops distinctive connections between nations. An individual should hold and display a systematic approach. The adventure in working as a job holder with a degree can be in the corporate or non-corporate arena. Nonetheless, coping with the demand with the supply of a more enthusiastic team of working party will further enhance the expectation in subsequent time.